It seems like yesterday when the semester started, and within no time the finals are around the corner. I know I know you didn't even get enough time to chill at Khokha or plan a movie night in your friend's room but this is what happens every semester. In LUMS, time literally flies.
Many of us are still living in the bubble 'abhi tu time hai yar… chill karo'. So here we are to pop your bubble and tell you the harsh reality that you have no more than 2 weeks to save your grades. **evil laughs**
I know what you are thinking, 'yeh sub itna jaldi kese hogaya. abhi tu muje instructor ka naam b yaad nhi hua' :'( 'Can I stop existing. Please. Or give me some time!'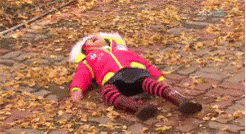 But unlike most lumintes, there are some smart thetas who went an extra mile to prepare for the final combat. Since they are always consistent with their academics while cooping up with other activities, they end up scoring a 4.0 or at least a DHL.
Know your strength and always bug your seniors
Slow and steady wins the race
Consistency is your savior